Digital Forensics: Using Tech to Investigate Child Abuse in CNY
The McMahon Ryan Child Advocacy Center is speeding up investigations and catching predators thanks to their expanded digital arsenal.
            In the 17 years that have passed since the McMahon Ryan Child Advocacy Center opened its doors, the nature of abuse detection and prevention has changed. The increased connectivity brought on by mobile internet access and the ubiquity of cell phones has created new dangers – particularly for children. However, it has also created new opportunities to catch predators and gather evidence against them. Through a Gifford Foundation grant, McMahon Ryan has added a new forensic tool that helps make child abuse investigations faster and more thorough.
              It is no surprise that cell phones play a role in the vast majority of child abuse cases. Text messages, photos, video, and even geo-location records provide key evidence for investigators looking into a case. Unfortunately, processing and extracting this information off of a mobile device was often a long and difficult process. Victims of abuse would have to turn over their phones to authorities for inspection – a procedure that would typically take between 3 and 6 months.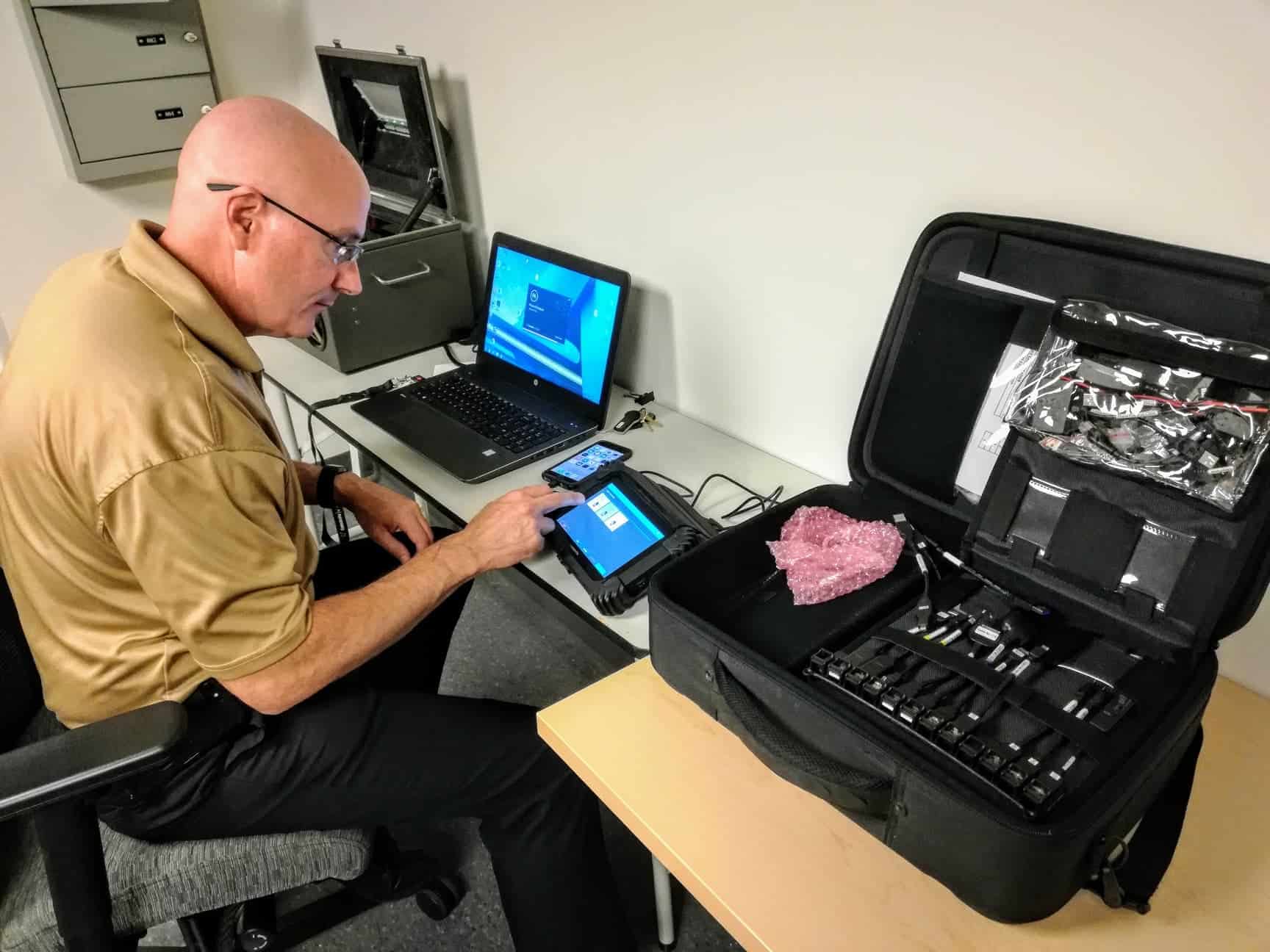 Sgt. Rick Smith of the Syracuse Police Department's Abused Persons Unit uses the Cellebrite device to extract data from a mobile phone while working at the McMahon Ryan Child Advocacy Center.
            In early 2019, McMahon Ryan applied through the Gifford Foundation's Community Grantmaking program for funds to purchase a special data extraction device known as the Cellebrite UFED Touch 2. This technology can quickly and securely make a copy of all data on a cell phone in just 30 minutes. In some cases, it can even retrieve deleted files. This is not only a faster and more comprehensive way to gather the information, but it makes life easier for victims who no longer have to relinquish their cell phones for long periods of time. It also leads to faster convictions due to how quickly evidence is made accessible. Despite being a relatively new tool – the Cellebrite device has quickly become an integral part of child abuse investigations and is used roughly four times per week at the McMahon Ryan Center.
            McMahon Ryan is a partner based organization that houses representatives from other agencies on-site in their facility, including members of the District Attorney's office, law enforcement officers, medical staff, and more. "I think [McMahon Ryan] is unique in that we are co-located and that everybody is here," says McMahon Ryan Executive Director Colleen Merced. "You can build trusting relationships and work well as a team. Everybody knows each other here." This data extraction technology is yet another way in which they can strengthen their partnership with these other agencies and work more efficiently together. Before the Cellebrite device every file, folder, call log, and text conversation on the device would have to be manually inspected by a police officer, an incredibly cumbersome process that took valuable staff time. Now there are three people who have been trained to use this equipment – including two Syracuse City Police officers and one member of the Onondaga County Sheriff's Department.

A view of the lobby at McMahon Ryan – the Center is designed with children's comfort in mind.
            Not only does the Cellebrite device give a bit more power and autonomy to victims, it streamlines and drastically improves efficiency for the McMahon Ryan and partner agency staff. "What turned our heads were the opportunities this project presented for building stronger partnerships and collaboration," said Lindsay McClung, Associate Director of the Gifford Foundation. "We were excited to help McMahon Ryan staff and partner agencies do what they do bigger, better and faster."
             With this new tool in place and increased capacity to serve, Colleen Merced is looking at what they can do next. She plans on investing in software that will assist in the capture of online predators, making it easier for investigators posing as children to catch abusers on the internet. Eventually, they want to hire someone to operate that equipment and fill that role full time. Merced went on to underscore the dire importance of these strategies: she has seen children as young as six years old victimized through online chatrooms, including popular digital spaces like X Box Live.
            Recently, she has been preparing for the implementation of Erin's Law, a new piece of legislation that would require that schools teach students about sexual abuse and offer prevention strategies. McMahon Ryan is already doing this within 65 schools across CNY, in addition to handling the more than 1,000 child abuse cases that they process at their facility each year. Still, Merced feels like there is so much more that needs to be done. A lack of diversity among therapists is a recurring problem, particularly for minority victims. She hopes that children will eventually feel more secure about coming forward "My ultimate goal would be to hire more [diverse] advocates and have them placed within the community," she says, "then kids will start to gain trust and build relationships so they will be able to self-report." •